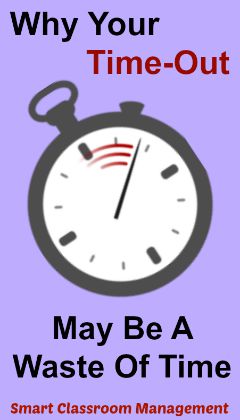 Here at SCM we recommend a 15-minute time-out.
Even for younger students.
This is longer than many teachers are comfortable with.
The thinking is that a student in time-out will miss too much participation time.
They'll grow bored and antsy and start misbehaving.
Besides, it's too harsh.
But none of this is true. In fact, done right, 15 minutes is the perfect amount of time for time-out.
Here's why:
Your students need time to take responsibility.
When a student is sent to time-out, they spend the first few minutes calming down and coming to grips with why they're there.
They replay the incident and mull it over in their mind.
And as long as you refrain from lecturing, scolding, and the like, and allow time-out to do its job without your interference, they'll take the next step.
They'll search for the moment they went astray. They'll identify the decision they made that broke the class rules.
They'll take responsibility.
And taking responsibility is what keeps students out of time-out. It is the lesson learned, the healthy humble pie, the dissuader of future misbehavior.
But this progression of thought doesn't happen in five minutes. Or even 10 minutes. Your students need every bit of 15 minutes to take ownership of their mistakes.
Your students will spend less time in time-out.
When you enforce consequences calmly, consistently, and without causing friction, the process of reflection and responsibility comes naturally.
It must come—or time-out is a waste of time.
If the student is angry at you because you glared and questioned them, or because you didn't hold Jeffrey or Karla accountable for the same thing the day before, then they won't take responsibility.
They won't even get beyond the calming down phase.
They'll grumble under their breath. They'll blame others involved. They'll point the finger at anyone and everyone but themselves.
This is why it's so important that time-out be as impersonal and consistent as a metronome. You're a robot following orders, nothing more.
The upshot is that over the course of a school year, your students will spend far less time in time-out.
Make It Matter

Many teachers believe that the longer you leave students in time-out, the greater the chances that they'll misbehave while they're there—because that's been their experience.
But length of time isn't the problem. Students play around in time-out when they feel the consequence is unfair.
This underscores the importance of keeping the focus off of you and your personal feelings.
It's about them and their decision to break a class rule. It's not about you and your frustration. They need to see that they alone are responsible for being separated from the class.
Therefore, be sure they know exactly what rule was broken, deliver your consequence matter-of-factly, and then leave them to it.
Just turn and walk away. Continue your lesson as if nothing happened.
In the meantime, your commitment to creating a classroom your students love being a part of will make even the prospect of time-out an intensely unattractive possibility.
It will prompt in misbehaving students a deep reflection, humility, and the desire to be a better classmate.
It will cause them to think twice about misbehaving.
Make time-out matter to your students. Heap the responsibility for being there entirely upon their shoulders. Give them 15 minutes to stew and reflect and own up to their wrongdoing.
And time-out will work as it should.
PS – If you're a principal and would like to improve recess behavior, click here.